Get FREE Enfamil Product Samples, Coupons, and Gifts (Scroll down, click on "Enfamil", enter info, then click on "Join" button). This is one of my favorites. Not only will you get a box filled with samples and coupons, but every few weeks you will get new Enfamil formula checks by mail as well as coupons by email. If you stack the coupons and checks together you can save a lot of money on formula. Here are some of the things you'll get if you qualify:
Free Full Sized and Sample Sets of Enfamil formulas
Up to $60 in savings on Enfamil products
Monthly emails with nutrition information and expert advice for your baby and you at every stage of development (aka: regular stream of coupons)
Some people even got a coupon for a Free Diaper Backpack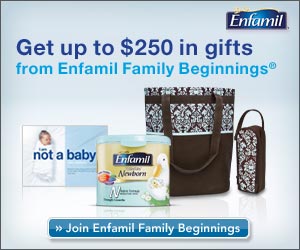 Sign up to see if you qualify. You need to be expecting a baby in your sign up form to qualify though. It will also take time before you will receive the package – between 4-8 weeks.